Metrical psalters and the Book of Common Prayer
Although it is not very well known today, for the first two centuries or so after the Reformation, Anglicans used to sing metrical psalms, along with their Scottish Presbyterian and continental Reformed fellow believers. In fact, the various editions of the
Book of Common Prayer
generally included, in addition to
Miles Coverdale's magnificent translation of the 150 Psalms
, a full metrical psalter, often that of
Sternhold and Hopkins
or, later,
Tate and Brady's "New Version"
within the same cover.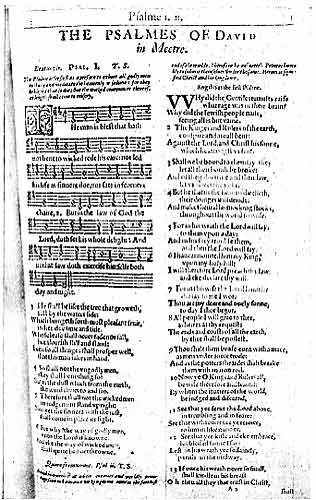 Many years ago I found an ancient copy of the BCP and metrical psalter in one volume at a used bookstore in Toronto. Alas it was too expensive.
Some thirty years ago there was a revival of metrical psalmody in the Church of England with the publication of
Psalm Praise
(London: Church Pastoral Aid Society, 1973). One of this collection,
Psalm 30
, made it into the latest edition of the Christian Reformed Church's
Psalter Hymnal
. This has to be one of the more moving renditions of this psalm in any collection.